The hardest lessons of all to learn are usually the expensive ones.  In this next series of posts, I'm going to try to make sense out of some things, that really don't make a lot of sense (to me, anyway).
Our tentative foray into the world of fruit production is proving to be a much slower process than initially thought.  Initially we came home with almost 300 cherry trees of the Romance varieties.  Carmine Jewels, Romeos and Juliettes.  Gorgeous little trees that filled up my poor mini van from hatch to coffee holders.  See – I want a Shrubbery!! http://summerberryorganics.com/?p=46
Since my enthusiasm tends to outweigh my common sense (99% of the time) I thought it prudent to purchase the orchard stock while we had cash in hand.  It never occurred to me that prepping the orchard areas by way of cultivation and planning should come first.  See – The Secret is in the Prep Work post….http://summerberryorganics.com/?p=86

Then comes the lesson on the native grasses…and how unbelievably thick and lush they can be!  Grass Gods 1 – http://summerberryorganics.com/?p=69   
As soon as you start maintaining grass…it seems to think that it's an invitation to GROW!!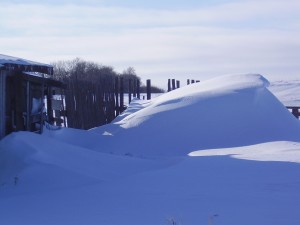 Since the winter of 2010 was fraught with major snow falls and unusual weather, and due to my LACK of prep work in the portions of field that were to support the Romeo and Juliet cherry trees we had little option but to store the un-planted trees in a cold room in the basement.   Although I consulted with my supplier on the best care for the dormant trees, this did not work out in our favor.  The death rate was staggering.  Almost 100 of my precious trees died!
In order to salvage what was left of the Romeo and Juliette trees I had to re-think the whole orchard idea!  I have taken four of the surviving trees (2 Romeos, 2 Juliettes) and set them in the Base Camp gardens.  The remaining survivors (4 Romeos and 5 Juliettes) I have planted near the front drive on the farm.
I would like to try to make a small "permaculture" style showcase garden right at the end of the driveway.  This way, anyone that pops by the farm, their first sight will be a lush fruit and vegetable patch.  This little space so far contains the surviving (fingers crossed they survive the 2011 winter) Juliet and Romeo cherry trees and a row of donated raspberry bushes gifted to us by a local lady.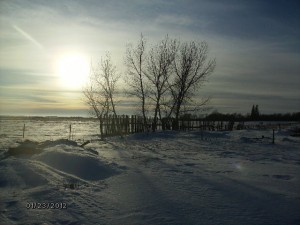 Our raspberry benefactor is a local gal of (get this) 92 that maintains her own home and garden.  She felt that the raspberries took up too much room so passed them along to us.  I planted 20 of the canes in the town gardens and took the rest to the farm.  The few that were in the town gardens produced about three pounds of fruit last season.  NOT BAD for plants that had been uprooted and moved TWICE in the single year!
Now that we are pretty through a very MILD winter, it's about time to get things rolling once again.
I'm sure there will be plenty of fussing over water issues this year.  Since our ONLY water pump kicked the bucket last fall, it's going to be an interesting adventure in irrigation!!  I'll keep you posted.